More than 100 people participated in the training seminars for professionals and front-line staff that took place in Greece for our project ENHAGA "Ending sexual harassment in video games". The seminars were held online on the 9th & 10th of March and on the 15th & 16th of March 2022.
Teachers, psychologists, social workers, professionals and staff of institutions and services promoting gender equality and combating gender-based violence had the opportunity to learn more about sexual harassment and, in general, gender-based violence in online games, to understand the profile of the perpetrators, to be informed about the current institutional framework and to learn how to react and report such incidents.
Thanasis Theofilopoulos, sociologist and researcher of the "ENHAGA" project (AMKE Symplexis), presented the findings of the research conducted during the project on the effects of sexual harassment, the forms of online violence against women & girls and the sexist behaviours observed in online gaming from player to player. During the presentation, participants had the chance to actively participate in identifying sexist behaviours and sexual harassment incidents.
Fenia Pistofidou and Raina Melissinou, adult educators and leaders of the ENHAGA project (KEAN) spoke about the appropriate ways to react to such incidents, the need to support victims of sexual harassment and gender-based violence and the possibilities of preventing such phenomena through the cooperation of different agencies and partnerships.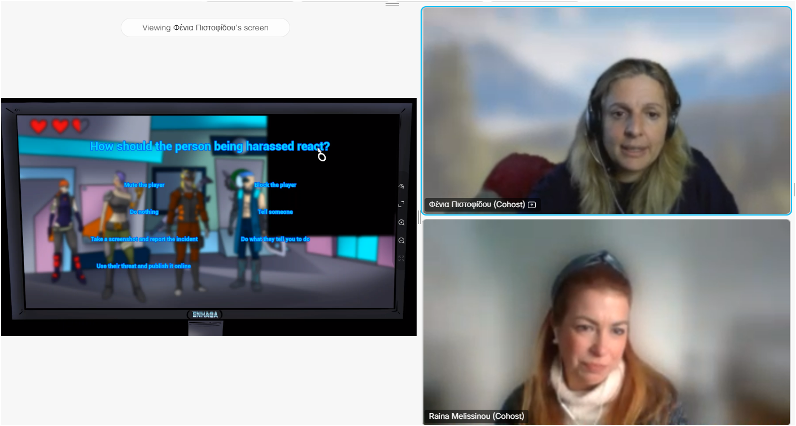 Finally, the participants had the opportunity to navigate through the digital world of the ENHAGA game and actively participate in the decisions and actions of the heroes.